RHODES

ROMEO GARDEN

Some Menu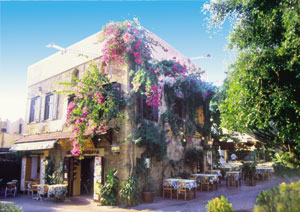 Romeo Garden, suggest you:
Kleftiko: a traditional recipe with lamb and vagetables and a wine sauce,STAMNA,BEKRI MEZE,MUSSELS IN WINE,KING PRAWNS A LA GRECA.
The steak-house choice continues with an interesting selection of KEBAPS,CHOPS,T-BONES,CHATEAUBRIAN and PRIME FILLET STEAKS, with various sauces.AND DON'T FORGET THE DAILY FRESH FISH, PIZZA in wooden oven variety of VEGETARIAN DISHES.
Please share your opinion of it with other travelers. Write a review!