RHODES

BLUE SKY BEACH HOTEL

LOCATION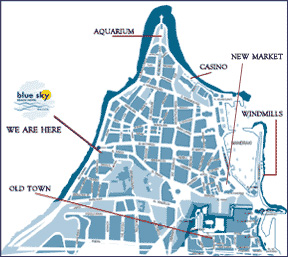 The beach is situated just opposite the hotel, the famous Medieval Town and the "Town Center" are only a 5 minute walk away. There you can make any purchases you want and sample the local nightlife.

In addition the "Aquarium" and the recently renovated Casino are also a 7 minute walk away.

Two medical centers and a pharmacy are in close proximity of the hotel,taxi and bus stops are within easy reach.


Please share your opinion of it with other travelers. Write a review!