RHODES

Nikos Takis Fashion Hotel

NIKOS TAKIS DESIGNERS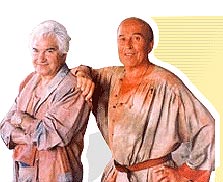 Throughout the firm's long history, personalities of the global jet set chose to dress with the creations of Nikos and Takis. More specific, Elizabeth Taylor, Linda Evans, Sofia Loren, Ornella Mutti, Joan Collins, Jackie Onassis, Maria Callas and Nana Mouskouri are among the international clientele of the firm. Nikos and Takis managed as the years went by to maintain not only their creativity but also high standards of quality.
As a result they have renovated an old 19th century building in the Medieval Town of the Greek island, Rhodes and turned it around into a beautiful hotel, with luxury and style, offering a warm oriental atmosphere to their customers. However, for Nikos and Takis there are no customers!!! Only good friends. On the ground floor of the Nikos Takis Fashion Hotel, the designers have set up a boutique with unique creations throughout the history of the firm as well as with representative samples of their new collections.

Please share your opinion of it with other travelers. Write a review!