RHODES

IPPOTIKON

Location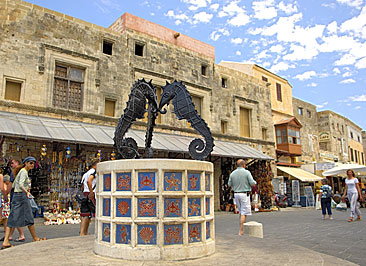 Ippotikon Restaurant is located at the heart of Rhodes Old Town (medieval town) in Evreon Martiron square.

The closest gate is the Port gate which is just about 100 m from the Restaurant, and offers beautiful scenery at the marina and the port with the fortress at the background.

Both daytime and nighttime visits in the old town have their advantages, at day you see in detail the medieval town local life, at night the town is transformed it is cooler and more comfortable for walks

The square our restaurant is located is a popular walking route day and night. Various shops are around the area with products like fur, leather products, gold, silver, various ancient and medieval artifacts, local products and tourist products.

Cars and motorcycles are not permitted within the streets of the old town so you will enjoy the walks arround Ippotikon Restaurant with many historical and beautiful sites.

Just about 50m from the restaurant you will find the impressive medieval church ruins, museums, the port and the marina, the medieval houses that are still inhabited from locals.

Just 100 meters away from Restaurant Ippotikon there is the Saint Panteleimonas Parking space which is quite spacious for your car or motorbike and you can enter from the entrance that is located beside the medieval moat (Tafros).
Please share your opinion of it with other travelers. Write a review!