RHODES

RED RESTAURANT

Dishes and Sweets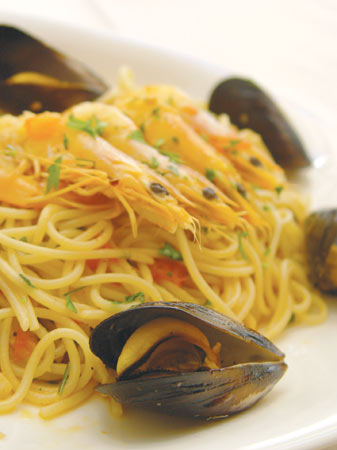 Pear Prosciutto Crudo and rocket Aubergine roulade with cheese. Smoked salmon and trout mouse Calamari al pesto.
Filo pastry with "fruit di mare", Green salad, pear, apple, walnut and blue cheese.
Rocket and spinach with grilled goats, cheese and sun dried tomatoes.
Spaghetti Marinara with spicy sauce.
Tagliatelle with shrimps and mussels.
Linguini Pesto of rocket.
Penne with zucchini and shrimp sauce.
Pork fillet with mozzarella and tomato.
Salmon with zucchini sauce and shrimps.
Cod with apple, pear and zucchini.
Perch with roasted vegetables.
Chicken with spinach and raisins.
King prawns with pesto and garlic.
Pork fillet in cherry, tomato & mushroom sauce.
Sole fish Chef s
Choice T-bone steak Cafe de Paris
Pannacotta
Tiramisu
Creme caramel
Cheese cake
Please share your opinion of it with other travelers. Write a review!