RHODES

LINDOS

OTHER INTRESTING PLACES IN LINDOS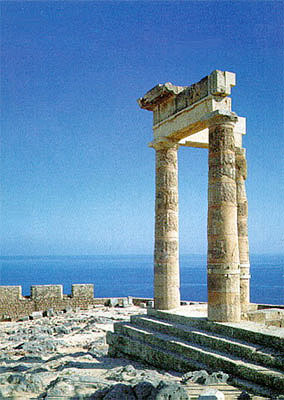 The Naiskos of the Taxiarch Michael Stratelates below the village square. There is a shallow niche with a post-Byzantine representation of the Archangel Michael Psychopompos. The traces of earlier frescos date it to the Byzantine period.
West of it, near the remains of the Moslem cemetery, is a shallow niche containing the representation of a mounted saint, possibly 15th c. These remains are known as Ayios Georgios Kammenos.
The Church of the Panayia. The village church is oblong with a transverse nave of the free cruciform type. In 1489 Grand Master Pierre d'Aubusson gave money for the repair of the church and the construction of a groin-vaulted vestibule for it. The grand master's escutcheon and that of the commander of the castle, Pierre d'Aymer, can be seen on the south side of the smaller bell-tower. The frescos in the church are still preserved. The oldest inscription gives the date 1637. However, the painting in the church as a whole is listed as the work of the painter Gregorios from Symi, in 1779.
Ayios Georgios Chostos, an inscribed cruciform church with a cupola, is on the northwest edge of the village. In the apse of the sanctuary are five layers of fresco painting belonging to the post-Iconoclast period in the 2nd half of the 12th c., and to post-Byzantine times.
Ayios Georgios Pachymachiotis or Pano. This inscribed cruciform church with a cupola dates to 1394/95 according to an inscription on the south side of the front of the apse. It is decorated with full-figure saints in luxurious attire on the south wall of the church, hierarchs below the arch of the sanctuary and part of a representation of the Ascension in the vault.
Agios Menas is the same type as Ayios Georgios Chostos. It has interesting late 12th c. frescos which are late Komnene in style but 15th c. in date.
Ayios Demetrios is a small barrel-vaulted church northeast of the entrance to the Acropolis. In a blind apse on its north wall can be seen a 15th c. St Demetrios on horseback.
In the locality of Vigli under the east cliff of the Acropolis the mosaic floor and marble tiling of an Early Christian basilica have been found, dating to the 5th c.
Please share your opinion of it with other travelers. Write a review!