RHODES

RHODES TOWN

THE NATIONAL THEATRE OF RHODES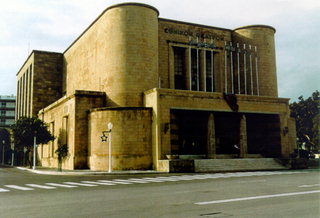 It is an imposing building on the Town Hall Square, a unique combination of the International nad Fascistic style. It is also an important specimen of the cannabic technology (Finta Pietra) and the use of glass bricks masonry in Greece. Very impressive is also the performance hall, which is very high and very long. It also has a balcony, thatre boxes and a bar.

It was built in 1937 by an unknown architect and was then called "Teatro Puccini". It was one of the most modern theatres of its era, suitable even for the performance of operas.

Today it is still used as a theatre and a cinema.
Please share your opinion of it with other travelers. Write a review!