RHODES

RHODES TOWN

THE POST OFFICE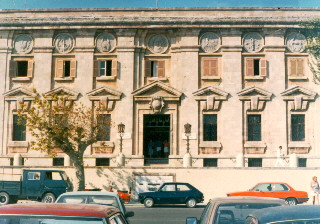 The building of the Post Office is located on the Liberty Square (Plateia Eleftherias) of the modern city of Rhodes. It is an excellent specimen of the Rennaisance Eclecticism and the "Finta Pietra" technology . The facade is richly decorated with reliefs carved on local poros stone. The impressive main entrance is in the centre of the building and symmetrical openings are left on each side.

The building was constructed during the first years of the Italian occupation by the Italian architect Florestano di Fausto. It was then used as the Italian Post-Office (Palazzo delle Poste) and its function today remains the same, as it houses the Greek Post-Office (ELTA).
Please share your opinion of it with other travelers. Write a review!