RHODES

RHODES

RODOS, DAUGHTER OF APHRODITE, WIFE OF HELIOS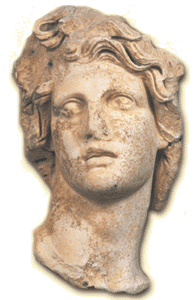 The ancient tales of men report that when Zeus and the Undying Ones portioned the earth ordering Rodos was not yet to be seen in the sea's water, but the island was hidden in the salty depths. The sun was away, and not lot was declared for him; They left him without a portion of Earth, a God undefiled. When he spoke of it, Zeus was for a second cast, but the Sun forbade; For he said that in the gray sea he saw swelling up from the bottom a land with much food for men and friendly to flocks.

That is how Pindar, in his seventh Olympic Ode, describes the geological phenomenon of the emergence of Rodos from the sea as a background to his praise of the athlete Diagoras of Rodos. And in the yellowish sandstone of which the monuments of Rodos are built, we can often see trapped the fossils of fish and sea - shells, proof that this land once lay beneath the sea. The human presence on Rodos can be traced with certainty back to the Stone Age. In the Middle Bronze Age, the first signs of the Minoan culture appear, and these flooded Rodos, lalysos, during the Late Minoan period. Mycenaean finds show that Mycenaean Greeks settled on the island, gradually spreading out until they had occupied all of it. It seems very likely that the three city - states familiar from history — lalysos, Lindos and Kamiros, each of them with its own independent policy — came into being in the 8th century BC, after the collapse of Mycenaean power.
Please share your opinion of it with other travelers. Write a review!